Trainer Cees Veerman: 'If you think you can swim, you must also dare to jump into the deep end!
Changing jobs or professions at the age of 54! Why shouldn't you? Cees Veerman from Sommelsdijk, a village in the municipality of Goeree-Overflakkee, just does it. Since a few months he is trainer, coach, entrepreneur and franchisee at Kenneth Smit. Cees is married to Janine and together they have three children aged 23, 20 and 18. He has a VW camper with which he and his wife like to visit Scandinavia and therefore also lives in a by themselves built Swedish house. His roots are in Hellevoetsluis and then a life on and around the water is a matter of course. Kenneth Smit's BlogBusters meet Cees on the digital highway and go through his life, career and a 'left-wing hobby' talking, philosophising and drinking coffee.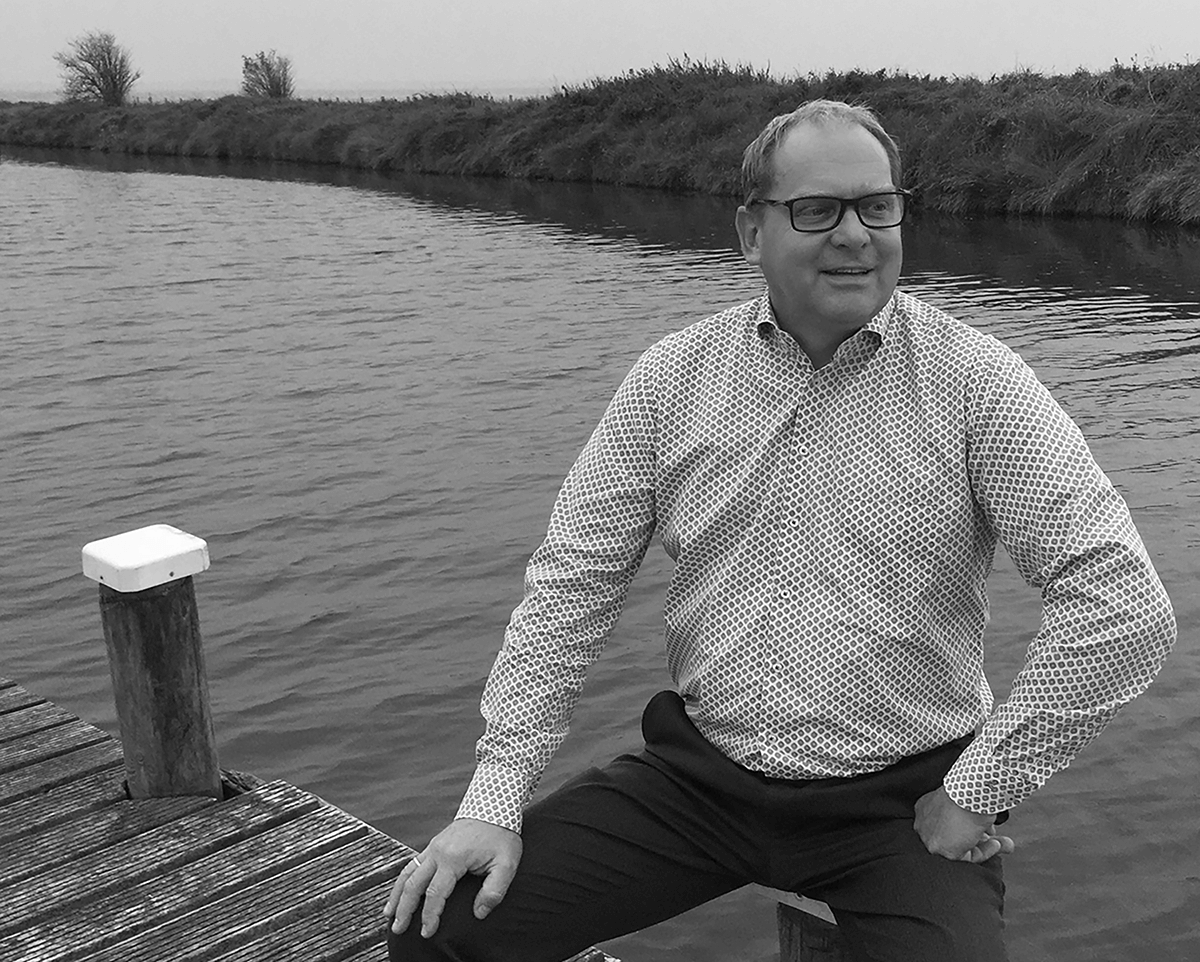 What course did you take until you signed a cooperation contract with Kenneth Smit?
I grew up as an only child with two educational parents in Hellevoetsluis, part of the metropolitan region Rotterdam The Hague. After secondary school it was a question of which course of study I was going to pursue. Would it be the Hotel School, the Conservatory or studying business economics? It eventually became the Conservatorium with the idea: 'you can always do the rest'. There I followed a course to become a teaching and performing musician and at the same time I studied 'performing arts management'.
And then you can apply?
That's right, after my studies I started working as a musician and as an (interim) manager of a number of art institutions. I also organised concerts and had an advisory practice for fellow musicians, where I helped them with legal and tax matters, for example. It was a very nice time with a lot of freedom and a good income. And in between companies I also thoroughly rebuilt my first house'.
And then what?
Oh yeah, well, after about ten years, I wanted to go into a more commercial role. I went to a headhunter and said, "Find me something commercial." Within a week I signed a contract with Prins & Dingemanse and as a commercial creative I was up to my neck in oysters and mussels. I enjoyed working there for five years and in the meantime I was trained internally to become an account manager. In the end I started working with a large Belgian-Dutch fishing network as an independent consultant in fisheries and developed a very dynamic portfolio of activities.
Then I read in your curriculum vitae that you will return to employment in 2008? How so?
Yes that's right, I found my existence as a consultant very lonely and got a nice job at NSD International, the former Dutch Special Printing Company, to set up a system for food coding there; the so-called LabelLord. Initially as Business Development Manager and quite soon as BU manager, I expanded the system internationally. I left in 2018. "Small difference of opinion with the DGA about the course to be followed", as it's called.
Sounds like an understatement?
"Well, after 10 years, I thought it was time for something new. Soon I had a new job to do and I became commercially responsible at Stylepoint, a producer and importer of premium tablewear. The company had grown rapidly and in order to grow further, there was a need for structure and further professionalization. After three quarters of a year's hard work here, I noticed that the place where I was sitting wouldn't make me happy in the long run. But then what would? In connection with a training course for our commercial people, I came into conversation with Kenneth Smit at the same time. And so I found myself on the next track.'
So you decide to do some more work for Kenneth Smit?
Cees (laughing): 'Funny the way you put this question to me. That's the provocative Kenneth Smit method, am I right? No, that choice for Kenneth Smit and the coaching profession is not some kind of last trick. It was a conscious choice that was enthused by fellow trainer Henri van 't Erve. In the past I had gained some experience with sales training and through my last employer I came into contact with Henri. We had a few conversations about the training profession, in combination with acquiring your own assignments and being able to make a reasonably well invested sandwich. Henri advised me to simply enter into conversation with the management of Kenneth Smit. So said, so done. It felt good right away.
Okay, but then why start in the most hectic period of this century?
Well, that first step had been taken and I didn't want to miss this opportunity. In recent years I have found out what energy costs me and especially what gives me energy. Very important to me is that I have and get the opportunity to do things my way. And well, I'm not the only one at Kenneth Smit who has to deal with this challenge: 'shared shit is half shit', right?
What challenge do you now see in a start during the Corona era?
My biggest challenge will be to get the trade together, it will certainly be spicier and more difficult. The decision to invest in training or management advice is less obvious in troubled times. If you look soberly, as an entrepreneur or company you have to think anticyclically. But is that easy reasoning from my position. It will take more effort than a year ago to convince DMUs, but at the same time it certainly offers opportunities..... It will be looking for companies and industries that are willing and/or able to invest. So lots of calling and networking! "Practice what you preach": be a professional and radiate that, right?
Okay, that's the trade, now about the trade. Why do you want to be a trainer?
Look, an entrepreneur at Kenneth Smit works as a trainer, coach and consultant at the intersection of sales, marketing and psychology.
Explain that to me, that "cut"?
"As a trainer"? Well, I like to be on a stage and find it cool to inspire people with an inspired story. Good trainers do that. I find the energy that is then released fascinating. I also like to challenge people, stimulate them and steer them in a different direction than they are 'always' used to.
"As a coach"? I'm always curious about what drives people and what's holding them back. In my previous positions as a manager I was able to help a lot of people further by talking to them, listening to them and getting things right for them'.
"And finally, as a consultant? In recent years I have increasingly noticed that my analyses of the challenges and solutions within the companies where I worked were good. As far as I am concerned, success starts with putting the customer first. Almost every company thinks so, but the majority does not act accordingly. I like to sit around the table with companies to make a plan. Well-trained people are of course the basis of success. That's just as convenient,' says Cees laughing.
What do you like about training people, entrepreneurs and their employees?
That's the interaction. Persuading obstinate trainees, entrepreneurs or employees that their behaviour is less effective than what we have come up with. So confrontation in a respectful way, dislodge entrenched beliefs and assumptions and replace them with other and, above all, more effective ways of looking at things'.
Finally, Cees, there are two things I'd like to know about you. Do you have any faith or remarkable beliefs? And you were talking about a "left-wing hobby" at the beginning of our conversation?
"Well, let's start with my philosophy of life. For me it is always leading that you, as a human being, are allowed to think and decide for yourself in complete freedom, without dogmatic or other restrictions. If something is good for yourself and doesn't harm the rest of the world, I'm fine with it. So I am a humanist at heart. In addition, I find it self-evident that we pay a little attention to each other and, where necessary, help each other to move forward. Freedom in connectedness', as it's so beautifully called.
Yeah, and what about that left-wing hobby? I'm worried about the ease with which art and culture are dismissed as something that only costs money and contributes little. Often it is put away as a 'left-wing hobby'. I disagree with that. Art inspires left and right, young and old. Art amazes and makes us look at things in a different way.
Moreover, with an added value of over 25 billion, the economic value of the total sector is comparable to that of construction. It accounts for 320,000 full-time jobs and just under 5% of total employment. So what, left-wing hobby? Good art policy is a sign of civilization. The sector has suffered huge blows in recent months and deserves support to prevent irreparable damage. Because, to conclude with Lucebert: "Everything of value is defenceless".
BlogBusters Kenneth Smit,
Rob of the Pass